Households/Organisations and Advanced Search
Households/Organisations and Advanced Search
---
Advanced Search is more comprehensive than standard Search. It can be used to Search through many different filters and categories in infoodle, including Households/Organisations.
Click People on the Navigation bar/menu.
Click Advanced Search.
Choose an active filter from the dropdown list and click the Run filter button
Or, click Create new filter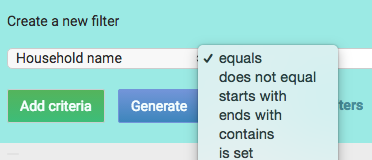 From the dropdown list, select Household Name.
Select the relevant additional fields. Add additional filters if required.
Click Generate to show a list of Households/Organisations.
Note
Reports allows lists to be grouped into one name per Household/Organisation. It may be easier to view results using Reports.
---
Was this article helpful?
---
What's Next