Share feedback
Thanks for sharing your feedback!
Welcome to infoodle Help! You can use the search above to find what you are looking for easily, or the navigation tree to the left to see all folders and articles.
---
Why use infoodle?
infoodle is a tool that will help with your administration within your organisation and community. At its simplest, it is a Database and Contact Management System with plenty of added features.
infoodle will help you stay in communication with the people within your organisation and community, and help you stay informed of how people are involved, whether they are a member, donor, supporter or attender.
Using infoodle means that everyone has access to the same correct information. infoodle enables you to store the information that you need: personal, financial, physical, and such. Having your contact management, donor management, event management and documentation in one place means no double entry, reducing time spent in administration.
Here at infoodle we aim to help and encourage you as best we can.
We want to see you work smarter, not harder, to achieve your measurable outcomes.
We also have a lot of Training Videos that you can access. Below is the most popular 'Introduction to infoodle' Basic Training that we recommend everyone watches and invests time in:
---
Using the Help System
There is an online Help available to you.
To access it, click on the Help at the top right hand corner of your screen. Here you will find Videos, Help topics (click Help to view all topics) and a search field to search specific topics.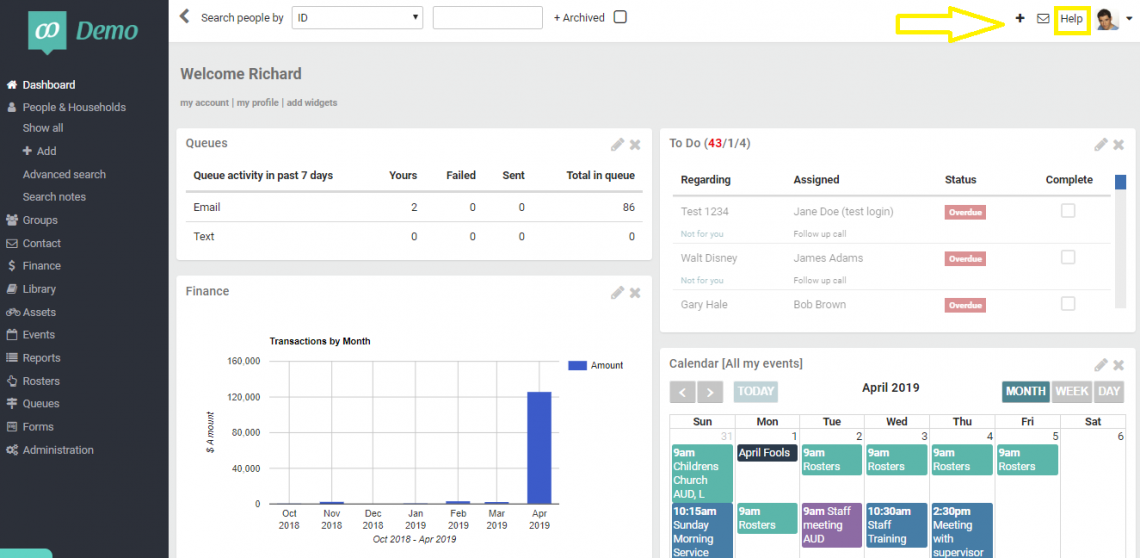 You are also able to click on the Support tab to the bottom left of your screen.


This will open up a form where you can enter your question and submit it to infoodle. The infoodle office will be notified and respond as soon as possible. You are also welcome to email us directly (support@infoodle.com) or give us a call.
---
Now that you have logged in, take a look around and review your data.
Below is a list of a few things you may want to start with. (Note that some of these require special permissions to be added to your role. If you do no have the permissions then contact your local administrator or get in touch with us if you need help giving your staff permissions):
---
Was this article helpful?
---
What's Next