Getting Started with infoodle Email
Getting Started with infoodle Email
---
How do you send an email in infoodle?
If you are wanting to send an email to an individual, or a group of people, you can do so using the infoodle Contact Feature. It is useful for sending quick emails using our Basic email composer. Or if you are wanting something a bit fancier, perhaps for newsletters and campaigns, you can use the new infoodle Designer to create beautiful and professional looking emails and marketing material. If you would prefer to use your existing MailChimp templates, this is possible as well.
Sending an email
If you need to quickly send an email then you can do this as follows:
Click the Contact section from the Navigation Panel
Select who to send the email to from the dropdown menu. (See "Selecting Email Recipients" for more info on this)
Select the Create from Basic option.
Enter your email Subject Line
Type your email content and format with Font type, Font Size etc as required
Add attachments if necessary
Click Send Now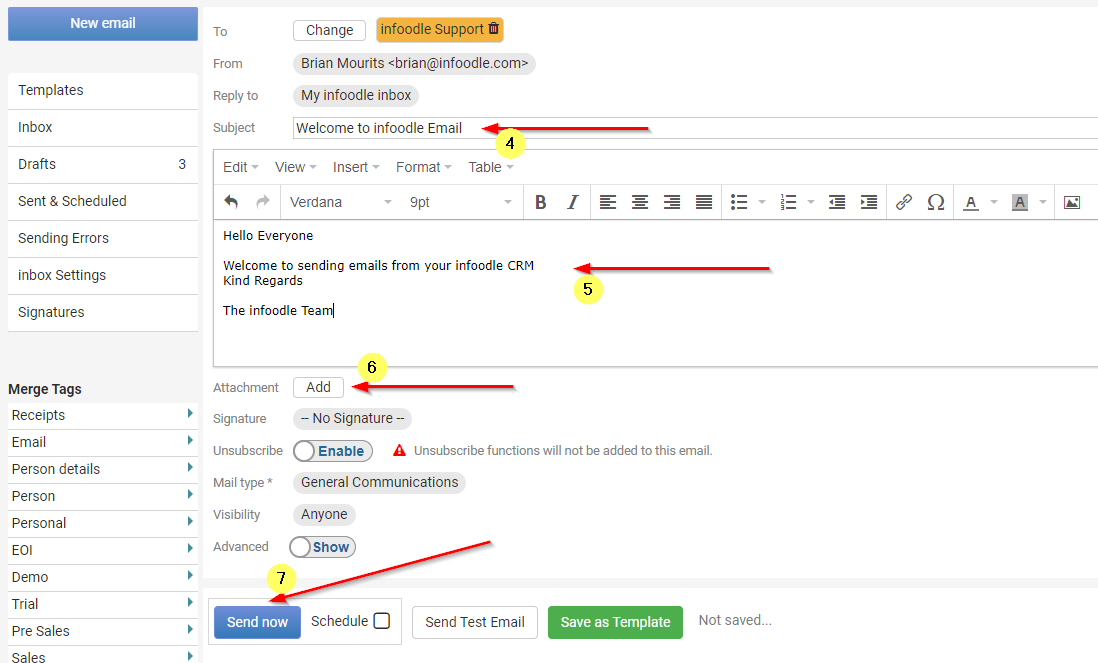 After you have clicked send, you will see a message below the "Send Now" button stating "emails queued".
Once the sending is complete this will update to say "Your emails have been Processed".

If you are sending a large number of emails this may take a little time, but you can safely continue working once you have seen the "emails queued" message.
More information on Creating and Sending emails:
Email Methods
Selecting Email Recipients
Recipient List Options
Using Basic Email
Using Email Designer
---
Was this article helpful?
---
What's Next